Some particularly interesting post-election research has emerged in the shape of a paper from Nicholas Biddle at the Australian National University's Centre for Social Research and Methods. This draws from the centre's regular online panel surveys on social attitudes, which encompasses a question on voting intention for reasons unrelated to prediction of election results. The study compares results for 1692 respondents who completed both its pre- and post-election surveys, which were respectively conducted from April 8 to 26 (encompassing the start of the campaign on April 11) and June 3 to 17 (commencing a fortnight after the election). Respondents were excluded altogether if they were either ineligible to vote or failed to answer the voting intention question.
The results are, to a point, consistent with the possibility that pollsters were confounded by a last minute shift to the Coalition, particularly among those who had earlier been in the "others" column. The changes can be summarised as follows, keeping in mind that a "don't know" response for the April survey was at 2.9%, and 6.5% in the June survey said they did not vote. Since the disparity leaves a net 3.6% of the total vote unaccounted for, the shifts identified below will err on the low side.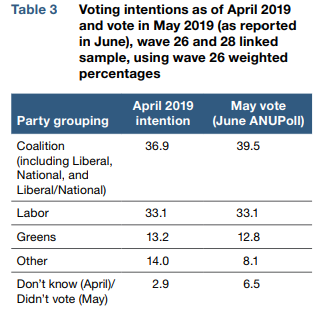 The Coalition vote increased an estimated 2.6% from the time of the April survey, suggesting the polls were right to be recording them at around 38% at that time, if not later. However, no movement at all was recorded in the Labor vote, suggesting they were always about four points short of the 37% most polls were crediting them with. The exception here was Ipsos, which had Labor at 33% or 34% in all four of the polls from the start of the year. The Greens fell very slightly, suggesting a poll rounding to whole numbers should have had them at 11% early in the campaign. Newspoll consistently had it at 9%, Ipsos at 13% or 14%, and Essential fluctuated between 9% and 12%.
The biggest move was the 5.9% drop in support for "others", although a fair bit of this wound up in the "did not vote" column. Even so, it can conservatively be said that pollsters in April should have been rating "others" at around four points higher than their actual election result of 15%, when they were actually coming in only one point higher. This three point gap is reflected in the size of the overestimation of support for Labor.
The results also point to a remarkably high degree of churn — an estimated 28.5% did not stick with the voting intention expressed in April, albeit that a little more than a fifth of this subset did so by not voting at all. The sub-sample of vote changers is small, but it offers little to suggest voters shifted from Labor to the Coalition in particularly large numbers. The Coalition recorded the lowest rate of defection, although the difference with Labor was not statistically significant (I presume it's normal for major party supporters to be more constant than minor). Conversely, 49.4% of those who left the "others" column went to the Coalition (which comes with a 9% margin of error), and most of the remainder did not vote.
The survey also features statistical analysis to determine the demographic characteristics of vote changers. These find that older voters were generally less likely to be vote changers, and that young vote changers tended not to do so in favour of the Coalition, presumably switching for the most part between Labor and the Greens. Also particularly unlikely to budge were Coalition voters who lived in areas of socio-economic advantage. Those at the other end of this scale, regardless of party support, were most volatile.
Also out this week was the regular fortnightly Essential Research survey, which is still yet to resume its voting intention series but will do so soon. A question on the anticipated impact of government policies over the next three years produces encouraging numbers for the government, with 41% positive and 23% negative. A question on racist sentiments finds 36% agreeing that Australia is a racist country, and 50% saying it is less racist than it was in the past. Breakdowns record no significant differences between those of migrant and non-migrant backgrounds, although the former may include too many of British origin for the results to be particularly revealing.
A question on political interest finds only 15% professing no interest in federal politics, with 53% saying they follow it closely or "enough to know what's happening". A big question though is whether polling has gone astray because too many such people are included in their samples. The poll was conducted Thursday to Sunday from a sample of 1075 respondents drawn from an online panel.