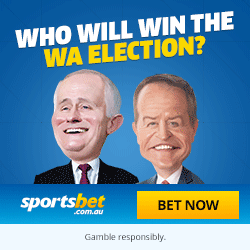 RESULTS AT 2013 ELECTION
HISTORICAL TWO-PARTY RESULTS
PREVIOUS ELECTION RESULTS MAP
Candidates in ballot paper order
MAX WILSON
Independent

ROBYN TREACY
Greens (bottom)

JOSEPH LAURENCE DARCY
One Nation

LINLEY ANNE PASS
Australian Christians

PETER W ROSENGRAVE
Micro Business Party

GREG MACPHERSON
Julie Matheson for WA

PAUL MILES
Liberal (top)

SABINE WINTON
Labor (centre)





A bellwether electorate since its creation in 1989, Wanneroo is located at the outer north of the metropolitan area, from Wanneroo itself through recently developed suburbs to the north including Tapping and Carramar, and semi-rural territory further afield. The redistribution has resulted in an exchange of territory in the east, where 2300 voters go to West Swan (including those in the new suburb of Banksia Grove), for the metropolitan fringe in the north, where 1000 voters are gained from Butler. The changes have had a negligible impact on the Liberal margin, which is down from 11.1% to 11.0%.
The urban development of Wanneroo began in earnest in the 1970s, at which point the area was accommodated by the rural electorate of Toodyay. Wanneroo then became part of the Whitford electorate from 1977 and its successor Joondalup from 1983, with the Wanneroo electorate created in place of the latter in 1989 (it later re-emerged as a separate entity in 1996). Jackie Watkins won Joondalup for Labor in 1983 and carried over to Wanneroo in 1989, but was unseated with the defeat of Carmen Lawrence's government in 1993.
The new Liberal member, Wayde Smith, lasted only a single term, losing his preselection ahead of the 1996 election over his entanglement in the "Wanneroo Inc" affair, and eventually going to prison for perjury. Iain MacLean retained Wanneroo for the Liberals in 1996, before falling victim to a 7.5% swing in 2001. It was then held for Labor through the Gallop-Carpenter period by Dianne Guise, who increased her margin in 2005 before being tipped out by a 6.9% swing in 2013.
Wanneroo has since been held for the Liberals by Paul Miles, a former Wanneroo councillor who also ran unsuccessfully in 2005. Miles enjoyed a 10.2% swing in 2013 and was subsequently promoted to parliamentary secretary, later attaining cabinet rank in March 2016 in the local government, community services, seniors and volunteering and youth portfolios. His Labor opponent at the coming election is Sabine Winton, a school teacher and Wanneroo councillor.