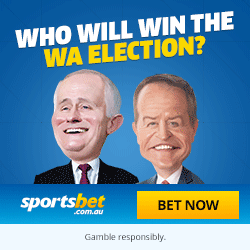 RESULTS AT 2013 ELECTION
HISTORICAL TWO-PARTY RESULTS
PREVIOUS ELECTION RESULTS MAP
Candidates in ballot paper order
WENDY BAUMANN
Liberal (centre)

JAMES MUMME
Greens (bottom)

JAMES OMALLEY
One Nation

CRAIG BUCHANAN
Independent

SYLVIA STONEHOUSE
Australian Christians

MARK CHARLES
Micro Business Party

MARK McGOWAN
Labor (top)





Mark McGowan's seat of Rockingham is based on a coastal regional centre 50 kilometres south of central Perth, which has been held for Labor since it was created in 1974 from territory formerly accommodated by Murray. The seat was marginal at first, but Labor's initially tenuous hold strengthened over time. McGowan won the seat by a 7.5% margin on his entry to parliament in 1996 and has been re-elected by double-digit margins at each election since, picking up a 1.8% swing as leader against the trend in 2013.
McGowan served as a parliamentary secretary during the Gallop government's first term after the 2001 election, and was then promoted to Tourism Minister after the 2005 election, and to Environment Minister when Alan Carpenter became leader in January 2006. A further promotion to Education Minister the following December encouraged suggestions he was a future leadership contender, although he only attracted nine votes out of 30 when he contested the deputy leadership against Roger Cook in the wake of the 2008 defeat.
McGowan was among the members of the Right who supported factional colleague Ben Wyatt's abortive challenge to Eric Ripper's leadership in January 2011, the ignominious failure of which dented Wyatt's own prospects for another tilt. When Ripper's leadership tottered in January 2012, the mooted contenders were McGowan and Willagee MP Peter Tinley, but the latter simplified matters by declaring himself too inexperienced. Momentum for the change became irresistible when parts of the AMWU Left joined independents in backing the challenge, prompting Ripper to stand aside for McGowan.