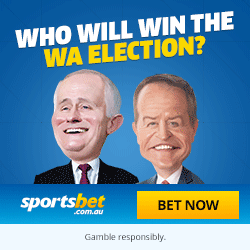 RESULTS AT 2013 ELECTION
HISTORICAL TWO-PARTY RESULTS
PREVIOUS ELECTION RESULTS MAP
Candidates in ballot paper order
JOHN CAREY
Labor (centre)

BEN BALLINGALL
Flux the System

MATT HANSON
Animal Justice Party

HANNAH MILLIGAN
Greens (bottom)

IAN MOLYNEUX
Julie Matheson for WA

ARCHIE HYDE
Micro Business Party

KEN IVAN LIM
Australian Christians

ELENI EVANGEL
Liberal (top)





The Liberals' victory in Perth was a high water mark of the party's landslide win in 2013, being the party's first win the in the seat since 1965. The seat has existed without interruption since 1962, prior to which the city area was divided between electorates of West Perth, East Perth and North Perth. It currently encompasses the core of the city centre, including Perth, East Perth, West Perth and Northbridge, and residential territory in Leederville, North Perth and Mount Hawthorn further to the north. The electorate has the state's highest proportion of same-sex couples, the sixth highest median income and the fourth highest share of non-English speakers, with Chinese and Italians being particularly prominent.
The victorious Liberal candidate in 2013 was Eleni Evangel, a former Perth City councillor of Greek descent, who picked up a 10.4% swing to unseat Labor's John Hyde. The Liberals' previous win in 1965 was achieved by Peter Durack, a future Senator and Fraser government Attorney-General. The seat was recovered for Labor in 1968 by Terry Burke, older brother to Brian, who held it until his retirement in 1987. Burke was succeeded at a May 1987 by-election by Ian Alexander, who quit the party on ideological grounds in 1991 and retired at the 1993 election. Former ABC Radio presenter Diane Warnock narrowly retained the seat for Labor in 1993 and served for two terms before retiring in 2001, bequeathing the seat to John Hyde, who came to state politics via gay activism and the mayoralty of the inner city Town of Vincent.
Labor's new candidate is John Carey, who in 2013 succeeded Alannah MacTiernan as mayor of Vincent, which encompasses the areas of the electorate north of Northbridge.