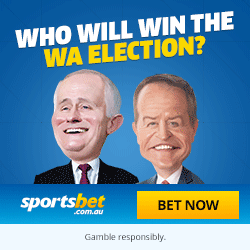 RESULTS AT 2013 ELECTION
HISTORICAL TWO-PARTY RESULTS
PREVIOUS ELECTION RESULTS MAP
Candidates in ballot paper order
SHANE HILL
Labor (bottom)

VINCE CATANIA
Nationals (top)

DANE SORENSEN
One Nation

CAROL GREEN
Greens

SANDY DAVIES
Independent

JULEE WESTCOTT
Liberal (centre)

ANGELA HOOPER
Micro Business Party

ADRIAN D'CUNHA
Flux the System





Together with neighbouring Kalgoorlie and Pilbara, North West Central has taken part in the Nationals' dramatic expansion from its Wheatbelt heartland into the state's mining and pastoral areas over the past two elections. In this case the shift was initially facilitated by the defection from Labor of Vince Catania, who was comfortably re-elected under his new party banner in 2013.
North West Central covers over 30% of the state's surface area, including the coast from north of Kalbarri through Shark Bay, Carnarvon and Exmouth to Onslow, and extends inland to the mining centres of Pannawonica, Tom Price and Paraburdoo. It is the most substantial beneficiary of the "large district allowance" that treats electorates of more than 100,000 square kilometres as having notional voters equal to 1.5% of their surface area in square kilometres. This results in an enrolment of just 10,408, compared with a statewide average of around 25,000. The redistribution has added 1000 voters in Gibson Desert remote communities from Kalgoorlie, cutting 1.3% from Catania's margin over Labor, but adding 0.8% to his margin over the Liberals.
The more populous areas of the electorate were mostly accommodated by Gascoyne before 1989, followed by Northern Rivers from 1989 to 1996, Ningaloo from 1996 to 2005, North West Coastal from 2005 to 2008, and North West from 2008 to 2013. Gascoyne was held for the Liberals by 1974 onwards, but the extension of Northern Rivers to inland mining towns gave Labor a very slight edge. Under the new name of Ningaloo, the seat was gained for the Liberals in 1996 by Rod Sweetman, who managed to defend his slender margin against the trend of the 2001 election.
The North West Coastal electorate that existed for one term after 2005 combined large parts of Ningaloo and its abolished northern neighbour Burrup, and was won for Labor by Fred Riebeling, member for Burrup and its predecessor Ashburton since 1992. Riebeling retired in 2008, as the one-vote one-value redistribution caused an expansion of the electorate's territory and a name change to North West. It was then won for Labor by Vince Catania, who had served for a term in the corresponding upper house region of Mining and Pastoral, and managed to defend a narrow margin against a comeback attempt by Rod Sweetman. This election marked the arrival of the Nationals as a local force, their candidate coming within 67 votes of overtaking Sweetman to reach the final count, in which case he could potentially have won the seat on Liberal preferences.
The experience of near-defeat at the hands of the Nationals evidently made an impression on Catania, who announced his defection to the party less than a year later. This gave the Nationals a fifth seat in the lower house and effectively pushed Colin Barnett's formerly minority government to a parliamentary majority, taking into account independent Liz Constable's position in cabinet. Labor supporters who might have hoped for karmic retribution for Catania's disloyalty were to be disappointed by the redistribution, in which the electorate exchanged Labor-voting Dampier, Karratha and Roebourne for more conservative Tom Price, Pannawonica and Paraburdoo. Labor went on to finish third at the 2013 election, with Catania emerging well ahead of a Liberal candidate with 44.2% of the primary vote.
Labor's candidate at the coming election is Shane Hill, who held Geraldton for the party through the Gallop-Carpenter years from 2001 to 2008. The Liberal candidate is Carnarvon Shire councillor Julee Westcott.