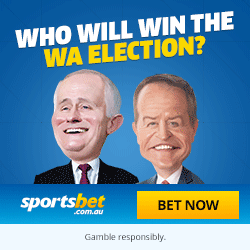 RESULTS AT 2013 ELECTION
HISTORICAL TWO-PARTY RESULTS
PREVIOUS ELECTION RESULTS MAP
Candidates in ballot paper order
JANELLE VAN BURGEL
Australian Christians


MICHAEL SUTHERLAND
Liberal (top)


MATT ROBERTS
Greens (bottom)


KANDI REVIAN
Animal Justice Party


ALEXANDRA FARSALAS
Micro Business Party


SIMON MILLMAN
Labor (centre)





The inner northern Perth electorate of Mount Lawley looms as one of the most important battlegrounds of the election, with the 8.8% Liberal margin placing it near the upper end of the band of seats Labor would need to gain on a uniform swing. The suburb of Mount Lawley and its famously hipsterish cafe and retail precinct lies at the southern end, from which the electorate extends northwards through heavily Jewish Menora and Coolbinia to middle-income Yokine and southern Dianella. The redistribution has added the small area of Mount Lawley to the west of Walcott Street for a gain of 1800 voters from Perth, and transferred 1000 voters in a part of Inglewood to Maylands in the east, cutting 0.6% from the Liberal margin.
Mount Lawley first existed as an electorate from 1950 to 1989 and was at all times in Liberal or independent Liberal hands. The member from 1962 to 1984 was Ray O'Connor, who served as Premier from 1982 to 1983. However, margins tended to narrow over time, and the electorates that succeeded it were marginal if not Labor-leaning. Its current territory was divided between Perth and Dianella from 1989 to 1996, Yokine and Maylands from 1996 to 2005, and Yokine, Perth and Maylands from 2005 to 2008. Dianella was won by Labor in 1989 and Liberal in 1993; Yokine was won by Liberal in 1996 and Labor in 2001 and 2005; and Perth and Maylands were held by Labor throughout.
When recreated with the one-vote one-value redistribution in 2008, the seat had a seemingly solid notional Labor margin of 5.8%. However, Labor suffered fallout from the preselection of Karen Brown, a lobbyist and former deputy editor for The West Australian, who had been hand-picked by the then Premier, Alan Carpenter. This came at the expense of incumbent Bob Kucera, whose abolished seat of Yokine provided Mount Lawley with around two-thirds of its voters. Kucera did not prove of a mind to go quietly, vainly contesting the preselection and then quitting the party, initially with a view to running as an independent.
The Liberals meanwhile endorsed Michael Sutherland, a South African immigrant who served on Johannesberg City Council from 1982 and 1987, and later on Perth City Council from 1995 to 2009, including five years as deputy lord mayor. Sutherland achieved one of the Liberals' strongest performances of the election in winning the seat with an 8.1% swing. Labor sought atonement in 2013 by again endorsing Bob Kucera, who was now 68, but the result was another heavy swing to the Liberals, boosting the margin from 1.7% to 9.4%.
Sutherland served as the parliament's Deputy Speaker throughout his first term, before going one better after the 2013 election. His Labor opponent is Simon Millman, an industrial relations lawyer with Slater & Gordon.