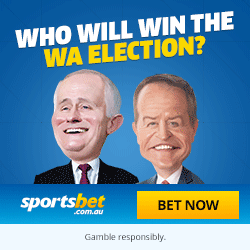 RESULTS AT 2013 ELECTION
HISTORICAL TWO-PARTY RESULTS
PREVIOUS ELECTION RESULTS MAP
Candidates in ballot paper order
ANNE-MARIE RICCIARDI
Greens (bottom)


NASIM BOKSMATI
Micro Business Party


IAN BRITZA
Liberal (top)


LOIS HOST
Australian Christians


AMBER-JADE SANDERSON
Labor (centre)


PAUL LONGO
Shooters Fishers and Farmers





The inner northern Perth seat of Morley was perhaps Labor's most disappointing defeat when it lost office in 2008, and it stayed well beyond their grasp amid the tide to the Liberals in 2013. The electorate consists of Nollamara at the western end, Dianella between Morley Drive and Yirrigan Drive in the centre, and Noranda and most of Morley proper in the east. It has not been affected by the redistribution.
Morley first gave its name to an electorate from 1974 to 1996, with the name tweaked to Morley-Swan from 1983 to 1989, and was held by Labor through that time on margins of never less than 7.4%. With the original seat's abolition, the territory now covered by Morley was divided Ballajura in the east, and Nollamara followed by Yokine (from 2005) in the west. Apart from a 44-vote Liberal win in Ballajura in 1996, these electorates were likewise held by Labor.
Coming off Labor's strong result at the 2005 election, the seat had a notional Labor margin of 9.9% when it was recreated in 2008, but the party's campaign was fatally undermined when the member for Ballajura, John D'Orazio, ran as an independent after failing to win preselection. D'Orazio had been one of a number of ministers brought down by the inquiries of the Corruption and Crime Commission, which temporarily resulted in his expulsion from the ALP. He was not granted the waiver necessary to contest preselection after he was readmitted, as Premier Alan Carpenter was determined the seat should go to Reece Whitby, state political reporter for Channel Seven. D'Orazio polled 16.0% of the vote and directed his preferences to the Liberals, causing Whitby's 1.0% lead on the primary vote to convert to a losing margin of 0.9% at the final count.
The seat has since been held for the Liberals by Ian Britza, a former church pastor who has remained on the back bench. Whitby ran again in 2013, but his primary vote remained static while Britza took up the slack from John D'Orazio (who died in April 2011), turning a post-redistribution Labor margin of 0.8% into a Liberal margin of 4.7%. When the unsuccessful spill motion against Colin Barnett was moved in September 2016, Britza joined resigning ministers Dean Nalder and Tony Simpson in declaring Barnett no longer had his support, and seconded the motion in the party room.
Morley will be contested for Labor by Amber-Jade Sanderson, a former official with the Left faction United Voice union who was elected to the upper house for East Metropolitan region from third position on the party ticket in 2013. Reece Whitby will make a third bid for office at the election, this time in the notionally safe new seat of Baldivis in the outer southern suburbs.