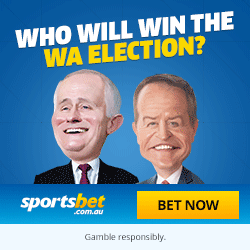 RESULTS AT 2013 ELECTION
HISTORICAL TWO-PARTY RESULTS
PREVIOUS ELECTION RESULTS MAP
Candidates in ballot paper order
MATTHEW HUGHES
Labor (centre)

LEE-ANNE MILES
Greens (bottom)

MURRAY BOWYER
Julie Matheson for WA

EVAZELIA COLYVAS
Micro Business Party

JOHN DAY
Liberal (top)

BRADY JOHN WILLIAMS
Australian Christians

RAY GOULD
One Nation





Located at the western edge of the Darling Scarp 25 kilometres east of Perth, Kalamunda has given its name to an electorate between 1974 to 1989 and again since 2008, with the Liberals holding the seat throughout both periods. As redrawn in the redistribution, it covers three distinctive parts: Kalamunda in the centre, together with Gooseberry Hill to the north and Lesmurdie to the south; lightly developed parts of Orange Grove and Martin in the south; and semi-rural territory around Glen Forrest and Parkerville in the north. Most of the latter has been gained in the redistribution, with 7700 votes gained from Swan Hills, which is balanced by the transfer of 5300 in a part of Maddington to Thornlie. The changes have little impact on the existing Liberal margin.
Kalamunda has been held through its second incarnation by John Day, who had previously been the member for Darling Range since 1993. While Darling Range continued to exist in name after the 2008 redistribution, Kalamunda absorbed many more of its voters than the electorate as redrawn. Day served as Police Minister and later Health Minister in the Court government's second term, before a 12.6% swing to Labor brought him within 0.3% of defeat in 2001. He lost a local preselection vote ahead of the 2005 election to Frank Lindsey, who harnessed discontent among social conservatives over Day's pro-choice policy positions while Health Minister, but the result was overturned by the party's state council at the behest of his influential allies, Peter Collier and Mathias Cormann. Day has gone on to serve as Planning Minister from the 2008 election victory until March 2016, when he returned to his old health portfolio.
Labor's candidate is Matthew Hughes, the principal of John Septimus Roe Anglican Community College. The party initially endorsed local councillor Tracy Destree, but she withdrew in October due to her husband's illness.