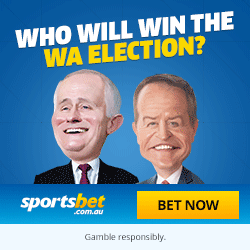 RESULTS AT 2013 ELECTION
HISTORICAL TWO-PARTY RESULTS
PREVIOUS ELECTION RESULTS MAP
Candidates in ballot paper order
JAN NORBERGER
Liberal (top)

NICHOLAS HART
Family First

REX HOST
Australian Christians

LISA WEBB
Greens (bottom)

PETER MARTIN
Micro Business Party

EMILY HAMILTON
Labor (centre)

AARON MALLOY
Julie Matheson for WA

BRIAN BRIGHTMAN
Independent





Joondalup takes its name from a suburb 25 kilometres north of Perth that was developed in the 1990s to serve as the commercial and civic hub of the rapidly expanding northern suburbs. It first gave its name to an electorate from 1983 to 1989, covering the outer reaches of the metropolitan area until a name change to Wanneroo, and has done so again since 1996, being more tightly concentrated around Joondalup proper. The seat has been won by the government of the day in both of its incarnations at every election except 2008, when Tony O'Gorman retained it for Labor amid the defeat of the Carpenter government.
As redrawn in the latest redistribution, Joondalup takes in Mullaloo and Ocean Reef on the coast; Connolly, Heathridge and northern Beldon immediately inland; and Edgewater and Joondalup (outside of a residential area north of the town centre) east of the Mitchell Freeway. The coastal suburbs have been gained in the redistribution, adding 9800 voters from Ocean Reef, which has accordingly been renamed Burns Beach. This is balanced by the loss of 3200 voters in northern Joondalup, who go to Burns Beach in the north, and 2000 in Craigie, who go to Hillarys in the south. The changes are substantially to the advantage of the Liberals, boosting the margin from 4.5% to 10.1%.
The first incarnation of Joondalup was held for Labor through its existence by Jackie Watkins, who then assumed Wanneroo for a term before losing the seat in 1993. The recreated Joondalup was won for the Liberals in 1993 by Chris Baker, who joined a number of his northern suburbs colleagues in losing his seat in 2001. The seat was then held for Labor for three terms by Tony O'Gorman, who had status quo results in 2005 and 2008 before falling victim to a 7.8% swing in 2013. It has since been held for the Liberals by Jan Norberger, who won promotion to parliamentary secretary in March 2016. Norberger has been linked with the growing influence in local Liberal branches of the Globalheart Pentecostal church, which is located within the electorate.
Labor's candidate is Emily Hamilton, a former staffer to Tony O'Gorman and North Metropolitan upper house member Ken Travers.