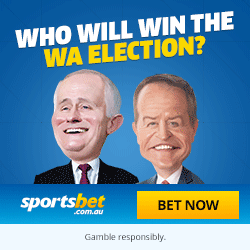 RESULTS AT 2013 ELECTION
HISTORICAL TWO-PARTY RESULTS
PREVIOUS ELECTION RESULTS MAP
Candidates in ballot paper order
PETER KATSAMBANIS
Liberal (centre)


ROB JOHNSON
Independent (top)


TERESA RITCHIE
Labor (bottom)


LOUAHNA LLOYD
Greens


ELISABETE ROBINSON
Australian Christians





Covering coastal suburbs 20 kilometres north of central Perth, Hillarys looms as a contest between self-styled independent Liberal Rob Johnson, who held the seat and its predecessor Whitford as a Liberal from 1993 until his resignation from the party in April last year, and official Liberal candidate Peter Katsambanis, who has held an upper house seat in North Metropolitan region since 2013. The electorate extends from Sorrento north through Hillarys to Kallaroo on the coast, and inland to Craigie and Padbury. The redistribution has excised Marmion at the southern coastal end, where 2000 voters have been transferred to Carine, and added Craigie, where 4000 voters are gained from Joondalup.
Hillarys was created in 1996 in place of abolished Whitford, which had accommodated the northern edge of Perth's coastal sprawl since 1996. Whitford flipped from Liberal to Labor when the Burke government came to power in 1983 and back again when Richard Court's government came to power at the 1993 election, at which Rob Johnson accounted for a narrow Labor margin with a 7.8% swing. The creation of Hillarys added 1.2% to his margin, helping him survive by 1.0% when the Court government was defeated in 2001. After little change in 2005, Johnson picked up strong succesive swings of 7.8% in 2008 and 6.1% in 2013.
Rob Johnson is a former mayor of the London borough of Sutton, and has maintained his English accent since moving to Perth in 1988. He had a difficult tenure as Police Minister after the 2008 election victory, which ended with him being dumped in June 2012. Johnson accused Barnett of having "betrayed" him by reneging on an earlier agreement in which he would leave the front bench of his own volition after the election, reportedly to take on the position of Speaker. He defied Barnett to nominate himself to the role when parliament resumed after the election, and received 26 votes to 33 for government nominee Michael Sutherland, suggesting at least four government members voted for him.
Johnson continued to clash in public with Barnett, while failing to clarify if he would again seek preselection, notwithstanding that he would be 73 at the time of the election. Only with his resignation from the party weeks out from a local preselection ballot in April 2016 did he declare his hand. This left two nominees: Peter Katsambanis, who had been an upper house member for North Metropolitan region since the 2013 election, following an earlier political life as a member of Victoria's Legislative Council from 1996 to 2002; and Simon Ehrenfeld, local party branch president and managing director of an industrial equipment business, who was endorsed by Johnson. Ehrenfeld easily won the local party preselection vote by 26 votes to nine, prompting Katsambanis to claim the process had been tainted by branch stacking.
The result was duly reversed by the state council, on which Katsambanis enjoyed support from Senator Mathias Cormann and Education Minister Peter Collier, who had both employed him as a staffer in the past. He was also backed by federal Moore MP Ian Goodenough, who is central to a religious conservative tendency associated with the Globalheart Pentecostal church in Joondalup. This prompted Johnson to claim Ehrenfeld had been vetoed by a "religious cult" motivated by anti-Semitism. Johnston said at the time he was "99 per cent sure" he would run as an independent, and confirmed the intention the following August.