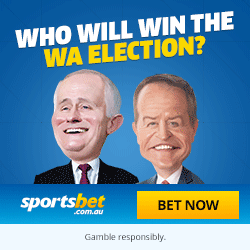 RESULTS AT 2013 ELECTION
HISTORICAL TWO-PARTY RESULTS
PREVIOUS ELECTION RESULTS MAP
Candidates in ballot paper order
GABRIELLE van der LINDE
Australian Christians

CHRIS JENKINS
Socialist Alliance

HAYDEN SHENTON
Liberal (centre)

JANETIA KNAPP
Julie Matheson for WA

MARTIN SPENCER
Greens (bottom)

ANDREW AYRE
Micro Business Party

WARREN DUFFY
One Nation

SIMONE McGURK
Labor (top)





Fremantle has existed as an electorate since self-government was established in 1890, and was held by Labor from 1924 until Adele Carles' by-election win for the Greens in 2009, before returning to the party fold in 2013. It has emerged from the latest redistribution as Labor's safest seat, having lost 10,000 voters in affluent areas of East Fremantle and neighbouring Palmyra to the new seat of Bicton. This is balanced by a gain of 9000 voters in lower-income areas of Hilton, Hamilton Hill and Spearwood, formerly in Willagee. The electorate continues to run from Fremantle proper through South Fremantle, White Gum Valley and Beaconsfield to the new development at Port Coogee. The changes have added 7.3% to the two-party margin against the Liberals, while also boosting the Labor primary vote by 5.7%, thereby fortifying it against any threat from the Greens.
Past Labor members of Fremantle include John Troy, son of Communist Party and maritime union leader Paddy Troy, whose tenure was limited to one term partly due to his tendency towards radical views; David Parker, who unseated Troy for preselection in 1980 at the age of 25 and served as Deputy Premier and Treasurer under the premiership of Peter Dowding, and eventually served a six-month prison term in the aftermath of the WA Inc scandals; and Jim McGinty, who succeeded Parker at a May 1990 by-election and served as party leader from October 1994 to October 1996, and as a senior minister throughout the period of the Gallop-Carpenter government.
Jim McGinty's exit from parliament six months after the September 2008 election defeat placed the seat at a clear risk from the Greens, whose candidate Adele Carles had nearly succeeded in overtaking the Liberals and unseating McGinty on their preferences. Carles duly outpolled Labor's candidate at the by-election, local mayor Peter Tagaliaferri, by 44.1% to 38.6%, and prevailed by 4.0% after a fairly even split of preferences from mostly conservative independent candidates.
Carles' status as a Greens hero proved short-lived, as she was compelled to admit she had been conducting an extra-marital affair with the Treasurer, Troy Buswell, in April 2010. She quit the party a fortnight later, complaining her colleagues had forced her to make the matter public. Buswell and Carles co-habitated for a period, but their relationship broke down in highly public fashion in 2012. Carles recontested the seat in 2013 as an independent but was only able to manage 5.5% of the vote. The Greens candidate finished well distant of the two major parties in third place, and Labor candidate Simone McGurk comfortably prevailed over the Liberals at the final count.
Simone McGurk had earlier been the secretary of UnionsWA, and is aligned with the United Voice sub-faction of the Left. She was aided in her preselection by an arrangement in which United Voice reciprocated Right faction support by backing Shop Distributive and Allied Employees Association secretary Joe Bullock in his bid for top position on the Senate ticket. His success in this endeavour relegated incumbent Louise Pratt to second position, and ultimately to defeat. McGurk was promoted to the shadow cabinet portfolios of community services, children's interests and women's interests in a June 2015 reshuffle caused by the resignation of fellow United Voice associate Ken Travers.
The Greens have endorsed Martin Spencer, a town planner with the City of Melville.