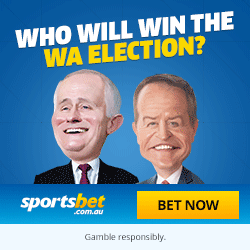 RESULTS AT 2013 ELECTION
HISTORICAL TWO-PARTY RESULTS
PREVIOUS ELECTION RESULTS MAP
Candidates in ballot paper order
CRAIG BALLINGER
Micro Business Party

IWAN BOSKAMP
Greens (bottom)

STUART W OSTLE
Shooters Fishers and Farmers

BARRY URBAN
Labor (centre)

MANAMAL M FROUMIS
Independent

DEREK BRUNING
Australian Christians

JAKE ADKINS MCCOULL
Liberal Democrats

SHARON POLGAR
One Nation

TONY SIMPSON
Liberal (top)

CHRIS BARKER
Flux the System





Darling Range covers the south-eastern reaches of the Perth metropolitan area, taking most of its voters from the South Western Highway towns of Byford, Mundijong and Serpentine. The redistribution has cost it the new urban fringe suburbs of Harrisdale and Piara Waters, where 3600 voters have been transferred to Jandakot. This has been balanced by gains of Baldivis east of the Kwinana Freeway from Kwinana in the south, and Sawyers Valley and southern Mundaring from Swan Hills in the north, both involving around 1000 voters. The changes have resulted in a 2.5% reduction in the Liberal margin.
The electorate has existed in name for all but one term since 1950, but it emerged from the one-vote one-value redistribution in 2008 bearing little resemblance to its old namesake, most of which had gone to the new seat of Kalamunda. Half of the new Darling Range's voters came from abolished Serpentine-Jarrahdale, and it was duly bequeathed to that seat's Liberal member, Tony Simpson, while Kalamunda went to the member for Darling Range, John Day. Simpson first had to overcome a notional Labor margin of 0.8% to win Darling Range, but this was easily achieved with a swing of 6.3%, followed by a further swing of 8.3% in 2013.
Tony Simpson owned a bakery in Byford before entering parliament, and was also on Serpentine-Jarrahdale Shire Council from 2001 to 2005. He served as a parliamentary secretary from the September 2008 election victory until July 2011, then as government whip, and won promotion to cabinet as Local Government Minister after the March 2013 election. Together with Transport and Agriculture Minister Dean Nalder, he resigned from the front bench in September 2016 citing a lack of confidence in Colin Barnett, triggering a spill motion that Barnett survived by 31 votes to 15.
Labor has again endorsed its candidate from 2013, Barry Urban, a former police officer and soldier who served in the British army and as a war crimes investigator in Bosnia, and has more recently been a youth justice officer and Serpentine-Jarrahdale Shire councillor.