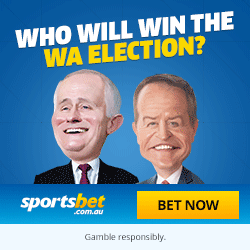 RESULTS AT 2013 ELECTION
HISTORICAL TWO-PARTY RESULTS
PREVIOUS ELECTION RESULTS MAP
Candidates in ballot paper order
SHAUN REID
One Nation (bottom)

MIA DAVIES
Nationals (top)

DENNIS PEASE
Australian Christians

ESTELLE GOM
Independent

GARY TEMPLEMAN
Labor

BILL CRABTREE
Liberal (centre)

AUDREY FOOTE
Greens

DIFF REYNDERS
Shooters Fishers and Farmers





Central Wheatbelt covers Nationals heartland east of Perth and west of the Goldfields, including the Avon Valley towns of Northam and York, and the Great Eastern Highway centre of Merredin. The redistribution has added the shires of Wandering, Boddington and Pingelly to the south-east of Perth, which were formerly in Wagin, together with the interior shires of Yilgarn and Westonia, formerly in the abolished seat of Eyre. The changes respectively account for 2200 and 900 voters, and add 0.5% to the Nationals margin against Labor, and 1.0% against the Liberals.
The electorate is the successor to the seat of Merredin, which existed from 1977 to 2008, and was in turn preceded by Merredin-Yilgarn, created in 1950. Labor held the seat for all but one term until 1974, in part because it was at that time oriented more towards the Goldfields, but the National/Country Party held it without interruption thereafter. Hendy Cowan was the member from 1974 to 2001, including through the period of the state party's split from 1978 to 1985, when Cowan formed part of the breakaway National Party of WA, as distinct from the coalitionist National Country Party. He emerged as leader of the Nationals after the split was resolved in 1985, and remained so until his retirement in the wake of the 2001 election defeat.
Cowan was succeeded in Merredin at a by-election in November 2001 by Brendon Grylls, who rose to the party leadership in mid-2005 after a successful challenge against Cowan's successor, Max Trenorden. The one-vote one-value redistribution before the 2008 election caused Trenorden's seat of Avon to be abolished and the newly constituted Central Wheatbelt to absorb much of its territory, which appeared to set Grylls and Trenorden up for a preselection contest, notwithstanding the former's seniority as party leader. However, the situation was resolved when the retirement of Murray Criddle made top position on the Agricultural region ticket for the upper house available for Trenorden.
Grylls vacated the seat at the 2013 election to make an audacious and ultimately successful run for Pilbara, and was succeeded in Central Wheatbelt by Mia Davies, who had won an Agricultural region seat in the upper house in 2008. Davies became the party's deputy leader in November 2013, after what proved to be Brendon Grylls' temporary abandonment of the party leadership, and also entered cabinet in the water and forestry portfolios, further taking on sport and recreation in December 2014.