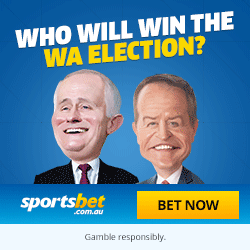 RESULTS AT 2013 ELECTION
HISTORICAL TWO-PARTY RESULTS
PREVIOUS ELECTION RESULTS MAP
Candidates in ballot paper order
CARL MADDOX
Julie Matheson for WA

ALBERT JACOB
Liberal (top)

SANDY CULUM-BUZAK
Micro Business Party

MARK FOLKARD
Labor (centre)

RUDOLPH JOHANNES CROUS
Australian Christians

MARK COOPER
Greens (bottom)

JOY DRENNAN
Family First





Known prior to the redistribution as Ocean Reef, Burns Beach covers urban development at far end of Perth's northern corridor, most of which emerged in the 1990s. It runs north along the coast from Iluka through Burns Beach to Mindarie, and inland to Kinross at the southern end and Clarkson in the north. The name change has been caused by the transfer of 10,000 voters in the coastal suburbs of Ocean Reef and Mullaloo to Joondalup in the south. This is balanced by the gain of Clarkson and its 6000 voters from Butler, along with 3000 voters at the northern end of Joondalup from the electorate of the same name. The effect has been to substantially reduce the Liberal margin, from 19.0% to 11.5%.
Ocean Reef was created at the 2008 election from territory formerly accommodated by Mindarie and Joondalup, which had respectively been Labor-leaning and highly marginal. The seat had a notional Labor margin of 1.6% on creation, but the Liberals immediately gained a decisive 6.0$% swing. The incoming member was Albert Jacob, a 28-year-old self-employed architect and horticulturalist who had served the local area for three years on Joondalup City Council. Jacob won promotion to parliamentary secretary in June 2012 and then to cabinet as Environment and Heritage Minister after the 2013 election, at which he picked up a resounding 16.3% swing. He has been associated with an evangelical Christian tendency within local party branches, together with Joondalup MP Jan Norberger and federal Moore MP Ian Goodenough.
Labor's candidate is Mark Folkard, a local police officer.