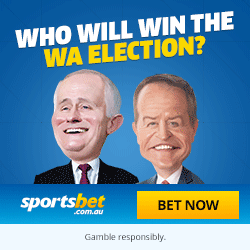 RESULTS AT 2013 ELECTION
HISTORICAL TWO-PARTY RESULTS
PREVIOUS ELECTION RESULTS MAP
Candidates in ballot paper order
IAN MORISON
Liberal (top)

SAMUEL JEWELL BROWN
One Nation

ANTHONY G SHANNON
Flux the System

MICHAEL BALDOCK
Greens

ALDO DEL POPOLO
Micro Business Party

JAMES HAYWARD
Nationals (bottom)

DON PUNCH
Labor (centre)

BERNIE MASTERS
Shooters Fishers and Farmers





Encompassing most of Western Australia's largest regional city, Bunbury is an historically marginal seat with a deceptively ample Liberal margin owed largely to the popularity of local member John Castrilli, who is retiring at the coming election. It has existed as an electorate since the establishment of self-government in 1890, and was held for its first 11 years by the state's first Premier, Sir John Forrest. Labor first won the seat in 1911, and it has frequently changed hands between Labor and the prevailing conservative party of the day ever since.
John Castrilli's win in 2005 by a margin of 103 votes marked the only occasion since 1971 when the seat failed to go with the party that won the election, and the only Liberal gain at an election that returned Geoff Gallop's Labor government for a second term. The one-vote one-value redistribution in 2008 resulted in the abolition of the neighbouring seat of Leschenault, which had been created as Mitchell in 1983 largely to accommodate the growth of Bunbury's suburbs, and the Bunbury electorate has since coincided largely with the city's municipal boundaries. The changes initially turned Castrilli's 0.4% margin from the 2005 election into a notional Labor margin of 0.9%, but Castrilli put the issue well beyond doubt by picking up a 12.6% swing, followed by a further 2.0% swing in 2013.
The latest redistribution has resulted in a territory swap with Collie-Preston, in which Bunbury gains newly developed Dalyellup in the city's south, while losing the southern part of Australind in the north. The changes are slightly to the disadvantage of the Liberals, reducing their margin from 13.1% to 11.9%. The party's new candidate is Ian Morison, principal of a local law firm. Labor has endorsed Don Punch, former chief executive of the South West Development Commission. The Nationals have failed to gain traction in Bunbury despite strong performances throughout regional Western Australia at the last two elections, but are now putting considerable resources into the campaign of their candidate James Hayward, a local councillor and the party's state president.