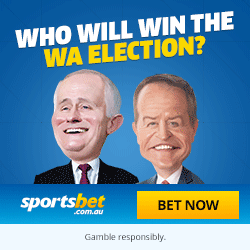 RESULTS AT 2013 ELECTION
PREVIOUS ELECTION RESULTS MAP
Candidates in ballot paper order
LOUISE DICKMANN
Greens (bottom)

LISA O'MALLEY
Labor (centre)

RICHARD KORFANTY
Micro Business Party

STEVE KEPERT
Independent

COLLEEN SAPORITA
Animal Justice Party

STEPHEN WARDELL-JOHNSON
Australian Christians

MATT TAYLOR
Liberal (top)





Bicton is a new seat covering the southern bank of the Swan River immediately to the east of Fremantle, taking much of its territory from the abolished Alfred Cove. The seat has a notional double-digit Liberal margin, but the Liberals have been hampered by a preselection dispute and controversy surrounding the locally important Perth Freight Link issue. The Liberal candidate is Matt Taylor, who was defeated for preselection in his existing seat of Bateman by Dean Nalder, the member for Alfred Cove.
The redistribution has divided Alfred Cove between Bicton and Bateman, with Bicton taking 11,000 voters at the western end in Bicton and Attadale. Bicton also takes in 10,000 voters in East Fremantle and Palmyra at its western end, formerly in Fremantle; 3000 from Melville in the south, formerly in Willagee; and 800 in Myaree in the east, formerly in Bateman. The riverfront suburbs are particularly affluent, and correspondingly strong for the Liberals. The notional Liberal margin of 10.6% compares with 23.6% in Alfred Cove at the 2013 election.
Matt Taylor is a former sustainability consultant who became member for Bateman at the 2013 election, filling the vacancy created by Christian Porter's move to federal politics. When the new boundaries were unveiled in July 2015, Nalder expressed his intention to contest the more electorally favourable seat, pleading seniority due to his status as a cabinet minister. The ensuing preselection struggle broadly pitted the party's business establishment, which favoured Nalder, against an increasingly assertive religious conservative tendency associated with South Metropolitan MLC Nick Goiran, which backed Taylor. The party's state council took control of the preselection amid allegations of branch stacking, and voted 69 to 50 in Nalder's favour. Taylor then won preselection for Bicton without opposition.
Labor's candidate is Lisa O'Malley, who works in the fitness industry and represents a ward encompassing Palmyra and Melville on Melville City Council. O'Malley has been campaigning against the Perth Freight Link project, the initial plan of which raised the spectre of compulsory acquisitions in Palmyra. However, the government may have taken the sting out of the issue in mid-January when it resolved instead to pursue a tunnel option.