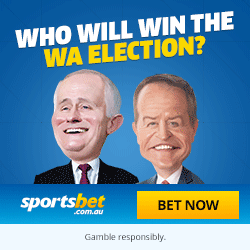 RESULTS AT 2013 ELECTION
PREVIOUS ELECTION RESULTS MAP
Candidates in ballot paper order
MALCOLM GEORGE
Liberal (centre)

KATH SUMMERS
Independent

CHRISTINE FEGEBANK
Greens (bottom)

MATT WHITFIELD
Independent

JOHN CARL ZURAKOWSKI
One Nation

REECE WHITBY
Labor (top)

YVETTE HOLMES
Australian Christians

PRABHPREET SINGH MAKKAR
Micro Business Party

CRAIG HAMERSLEY
Independent





The new seat of Baldivis takes its name from a suburb 45 kilometres south of central Perth, and further encompasses Bertram and Wellard west of the freeway at its northern end, and the interior edge of Rockingham at Cooloongup and Waikiki in the west. With the exception of the latter areas, which date to the 1990s, the area consists of developments that have emerged almost entirely over the last decade. It is accordingly dominated by young families, with the Rockingham end being both older and lower in income. More than three quarters of the voters were formerly in Kwinana, which has been reoriented further to the north, with the rest coming from Warnbro in the south.
Baldivis will be contested for Labor by Reece Whitby, a former Channel Seven journalist who was twice unsuccessful in the northern suburbs seat of Morley in 2008 and 2013. He was preselected on the first of these occasions at the instigation of the then Premier, Alan Carpenter. This thwarted the designs of John D'Orazio, who hoped to contest the seat after the abolition of his existing seat of Ballajura, despite losing his ministry after becoming embroiled in Corruption and Crime Commission investigations, and being expelled from the party for a period. D'Orazio then proceeded to run as an independent and directed his preferences against Labor, boosting Liberal candidate Ian Britza to an unexpected victory.
Whitby has lately worked as media adviser to Mark McGowan, who helped secure his endorsement in Baldivis without opposition. This was confirmed by the party's state executive shortly after Stephen Smith suggested the seat might provide him with an entry point to parliament as part of his ill-fated leadership pitch in early 2016.