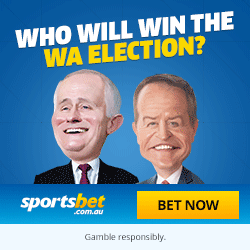 NORTH METROPOLITAN REGION MAP
RESULTS AT 2013 ELECTION
HISTORICAL VOTE RESULTS
HISTORICAL SEAT RESULTS
CANDIDATES IN BALLOT PAPER ORDER
| 1 | Independent |
| --- | --- |
| 1 | RAOUL KAWUSU CONTEH SMITH |
| 2 | MICHAEL CAREY |
| 2 | WA Labor |
| 1 | ALANNAH MacTIERNAN |
| 2 | MARTIN PRITCHARD |
| 3 | KELLY SHAY |
| 4 | HANNAH BEAZLEY |
| 5 | LAINE McDONALD |
| 6 | HUGH NGUYEN |
| 3 | Pauline Hanson's One Nation |
| 1 | JOHN BOMBAK |
| 2 | IAN HAMILTON |
| 4 | Daylight Saving Party |
| 1 | TYE JAMES SHORT |
| 2 | MICHAEL KENNEDY |
| 5 | Family First |
| 1 | HENRY HENG |
| 2 | LESLEY CROLL |
| 6 | Micro Business Party |
| 1 | JOHN GOLAWSKI |
| 2 | MATT GOLAWSKI |
| 3 | MARIAH BENNINGTON |
| 7 | The Greens (WA) |
| 1 | ALISON XAMON |
| 2 | SAMANTHA JENKINSON |
| 3 | ZIGGY FATNOWNA |
| 8 | Independent |
| 1 | A ALBERT |
| 2 | CLAIRE NORTON |
| 9 | FLUORIDE FREE WA |
| 1 | STEVEN SMITH |
| 2 | CLARK ROBERTSON |
| 10 | Liberal Party |
| 1 | PETER COLLIER |
| 2 | MICHAEL MISCHIN |
| 3 | TJORN SIBMA |
| 4 | VICTORIA JACKSON |
| 5 | SANDRA BREWER |
| 6 | TIM WALTON |
| 11 | Flux The System! |
| 1 | JOSHUA VAN ROSS |
| 2 | OWEN MERRIMAN |
| 12 | Animal Justice Party |
| 1 | NATASHA CHAKICH |
| 2 | ELIZABETH McCASKER |
| 13 | Liberal Democrats |
| 1 | BRIAN ROSS MURRAY |
| 2 | JOHN OGILVIE |
| 14 | Julie Matheson for Western Australia |
| 1 | JULIE MATHESON |
| 2 | JANE BOXALL |
| 15 | Australian Christians |
| 1 | DWIGHT RANDALL |
| 2 | NEIL FEARIS |
| 16 | Shooters, Fishers and Farmers |
| 1 | PAUL BEDFORD |
| 2 | DANIEL STRIJK |
| 17 | Independent |
| 1 | MICHAEL TUCAK |
| 18 | Independent |
| 1 | DEREK AMMON |
| 19 | Independent |
| 1 | JOE RUZZI |
North Metropolitan is the strongest of the three metropolitan regions for the Liberals, by virtue of accommodating the western suburbs. The party pulled off the unusual feat of winning four seats out of six in 2013, something it had only previously achieved under the pre-2008 configuration, at which it was one of two regions with seven members. Labor has won three seats at each of its winning elections, in 1989, 2001 and 2005, and two on the other four occasions. An administrative error left Labor without an above-the-line voting option in 1993, which at least partly explained their loss of a seat to Reg Davies, a former Liberal turned independent. Former Greens leader Giz Watson held a seat from 1996 until 2013, when she ran unsuccessfully in South West region. Watson was joined at the 1996 election by Helen Hodgson of the Australian Democrats, who failed to win re-election in 2013. The Greens failed to win a seat in Watson's absence in 2013, as the surge in support for the Liberals left only two seats free for the left, and Labor secured them both by scoring almost exactly two quotas.


---
The Liberal ticket is headed by Peter Collier and Michael Mischin for the third election running, but the third candidate elected in 2013, Liz Behjat, has been dumped for preselection, while the fourth, Peter Katsambanis, is contesting the lower house seat of Hillarys.

Peter Collier is a former school teacher who was first elected from second position in 2005 after establishing himself as a figure of influence in northern suburbs party branches. He became Energy Minister upon the election of the Barnett government in September 2008, and further gained education when Liz Constable moved to the back bench in June 2012. His portfolio load throughout the current term has been education, Aboriginal affairs and electoral affairs. Collier has kept his hand in as a factional player, and has increasingly been noted for his alliance with Senator Mathias Cormann.

Michael Mischin is a former crown prosecutor who was first elected in 2008 and immediately attained parliamentary secretary status, before winning promotion to his present role as Attorney-General in June 2012.

The new number three candidate is Tjorn Sibma, whose CV includes positions as a Defence Department analyst, Howard government media adviser and Barnett government policy adviser. He takes the place of Liz Behjat, who was elected from number three in 2008 and 2013, but remained on the back bench throughout her tenure in parliament. Fourth position has gone to Victoria Jackson, a lobbyist with the Australian Hotels Association.


---
Barring an unprecedented calamity for Labor, the election will see the return to state politics of Alannah MacTiernan, who was the high-profile Planning and Infrastructure Minister through Labor's previous period in government from 2001 and 2008. MacTiernan was first elected to the upper house in East Metropolitan region in 1993, before moving to the lower house seat of Armadale in 1996. After being overlooked for the party leadership in the wake of the 2008 election defeat, reflecting hostility towards her among union powerbrokers, MacTiernan quit state parliament to prepare for a move to federal politics. She ran unsuccessfully in the seat of Canning at the 2010 election, then successfully in Perth in 2013, and served in the interim as mayor of the inner-city Town of Vincent. In February 2016 she made the unanticipated announcement that she would not seek another term as member for Perth, prompting immediate speculation she was seeking to return to state politics. After initial doubts that a seat would be available for her, with MacTiernan insisting she wanted an upper house spot to ensure she was not perceived as a threat to Mark McGowan's leadership, she was accommodated in North Metropolitan after Ken Travers announced his intention to bow out last August.

Second on Labor's ticket is Martin Pritchard, who came to parliament in April 2015 in place of Ljiljanna Ravlich, a Gallop-Carpenter government minister who had represented the region since 1996. Third is Kelly Shay, stakeholder relations consultant with AustralianSuper and a former assistant secretary with the powerful Left faction union United Voice.


---
The Greens candidate is Alison Xamon, who served a term as member for East Metropolitan as a beneficiary of the party's strong performance in 2008, before falling victim to its much weaker one in 2013. Since her defeat she has held roles in mental health advocacy and suicide prevention, while practising as a lawyer.

With One Nation being relatively weak in this region, the best placed small party candidate may be Henry Heng of Family First, who stands to receive second preferences from four micro-parties as part of a statewide deal. Heng is the chief executive of a company that produces distilled water, and attracted amused attention during his 2013 campaign with an amateurish ad jingle.

Other lead candidates are John Bombak (One Nation), Tye James Short (Daylight Saving Party), John Golawski (Micro Business Party), Steven Smith (Fluoride Free), Joshua Van Ross (Flux the System), Natasha Chakich (Animal Justice), Brian Murray (Liberal Democrats), Julie Matheson (Julie Matheson for WA), Dwight Randall (Australian Christians) and Paul Bedford (Shooters Fishers and Farmers).


---
Return to upper house guide entry page