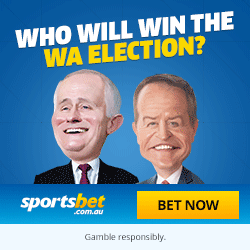 MINING AND PASTORAL REGION MAP
RESULTS AT 2013 ELECTION
HISTORICAL VOTE RESULTS
HISTORICAL SEAT RESULTS
CANDIDATES IN BALLOT PAPER ORDER
| 1 | FLUORIDE FREE WA |
| --- | --- |
| 1 | ANNE PORTER |
| 2 | DAVID BAUER |
| 2 | Micro Business Party |
| 1 | NATASHA ROGERS |
| 2 | PRITAM PATIL |
| 3 | Shooters, Fishers and Farmers |
| 1 | STEFAN COLAGIURI |
| 2 | SHANE AYLMORE |
| 3 | KINGSLEY SMITH |
| 4 | Flux The System! |
| 1 | KAI SHANKS |
| 2 | MELISSA TAAFFE |
| 5 | Daylight Saving Party |
| 1 | AMANDA KLAJ |
| 2 | JOEL BRIAN DUFFY |
| 6 | Independent |
| 1 | PAUL FITZGERALD |
| 2 | NICHOLAS CUKELA |
| 7 | Independent |
| 1 | ATILLA ATAMAN |
| 2 | TAYLA STUCKE |
| 8 | Australian Christians |
| 1 | GRAHAME GOULD |
| 2 | JACKY YOUNG |
| 9 | WA Labor |
| 1 | STEPHEN DAWSON |
| 2 | KYLE McGINN |
| 3 | PETER FOSTER |
| 4 | CHRISTOPHER MOUSLEY |
| 10 | Independent |
| 1 | ABED RAOUF |
| 2 | BILLY AMESZ |
| 11 | Julie Matheson for Western Australia |
| 1 | SONYA MATHESON |
| 2 | PAUL COSTANZO |
| 12 | Pauline Hanson's One Nation |
| 1 | ROBIN DAVID SCOTT |
| 2 | JUSTIN KEATING |
| 3 | JANINE LEE VARLEY |
| 13 | The Greens (WA) |
| 1 | ROBIN CHAPPLE |
| 2 | TIMOTHY OLIVER |
| 14 | Independent |
| 1 | ANGELA HYDE |
| 2 | GREG GANDOSSINI |
| 15 | Independent |
| 1 | ARIHIA HENRY |
| 2 | PETE FRANCIS |
| 16 | Liberal Party |
| 1 | KEN BASTON |
| 2 | MARK LEWIS |
| 3 | BARRY POUND |
| 4 | JASON WELLS |
| 17 | THE NATIONALS |
| 1 | JACQUI BOYDELL |
| 2 | DAVE GRILLS |
| 3 | GARY BROWN |
| 4 | JUDI JANES |
| 5 | ADRIAN HATWELL |
| 6 | TERRY FLEETON |
| 18 | Liberal Democrats |
| 1 | JARED NEAVES |
| 2 | MARKO VASEV |
| 19 | Independent |
| 1 | KEITH MADER |
| 2 | ROYCE NORMINGTON |
| 20 | Family First |
| 1 | IAN ROSE |
| 2 | BEV CUSTERS |
| 21 | Independent |
| 1 | JULIE OWEN |
| 22 | Independent |
| 1 | DARBY RENTON |
Covering the greater part of the Western Australian land mass, Mining and Pastoral region has witnessed a dramatic upswing in support over the past two terms for the Nationals. The party won a seat for the first time in 2008 and added a second in 2013, after not even fielding candidates in 2005. The region returned three Labor and two Liberal members at each election during its five elections as a five-member region from 1989 to 2005, with the exception of the 2001 election when One Nation and the Greens cost each of the major parties a seat. Labor managed to drop a seat in 2008 despite its expansion to six members, with both the Greens and the Nationals winning a seat, then crashed to a single seat when the Nationals gained their second in 2013.


---
The top two spots on the Liberal ticket are unchanged from 2013, with the lead position going to Ken Baston, a former Carnarvon pastoralist who was elected from number two in 2005 and 2008 before his elevation in 2013. Baston maintains top position despite having lost his place in the ministry as Agriculture Minister in April 2016, to which he had been promoted after the 2013 election.

The second candidate, Mark Lewis, was first elected in 2013 after previously been a Carnarvon-based public servant with the Department of Agriculture. He won promotion to the ministry in Baston's old portfolio of agriculture in September 2016, which had been held in the interim by Dean Nalder, who resigned ahead of the unsuccessful spill motion against Colin Barnett that prompted the reshuffle.

Third on the ticket is Barry Pound, a real estate agent.


---
The Nationals' first ever seat in Mining and Pastoral was won at the 2008 election by Wendy Duncan, who then achieved another first for the party at the 2013 election when she successfully contested the lower house seat of Kalgoorlie, which had been vacated by former Liberal member Matt Birney.

The party then achieved a further success in Mining and Pastoral region by winning a second seat – a remarkable feat in a region they had neglected to contest two elections earlier. They have maintained the top order of their ticket from that election, with top spot held by Jacqui Boydell, the party's former state director and parliamentary executive officer.

Second on the ticket is Dave Grills, a former Kalgoorlie police officer and state party deputy president.


---
After winning three seats in Mining and Pastoral at each of its five elections as a five-member region, with the exception of 2001 when it dropped a seat to the Greens, Labor did poorly to drop to two despite the expansion to six seats in 2008, and still worse in 2013 when another seat was lost to the Nationals juggernaut.

The party's sole remaining member in Mining and Pastoral is Stephen Dawson, who retains the top position from which he was first elected in 2013. Dawson was formerly a ministerial staffer in Victoria as well as Western Australia, and is associated with the Australian Manufacturing Workers Union sub-faction of the Left. He was promoted to the shadow ministry in September 2013, in the disability services, mental health and child protection portfolios.

Second on the ticket is Kyle McGinn, a 28-year-old Karratha-based organiser for the Maritime Union of Australia.


---
Greens incumbent Robin Chapple first won a seat in Mining and Pastoral in 2001, was defeated in 2005, and then returned in 2008 and won re-election in 2013. Prior to entering parliament he was prominent in Port Hedland as a councillor and environmental campaigner, and later worked as a research officer to Greens MP Giz Watson.

One Nation's candidate is Robin Scott, an electrical contractor who ran for the party in Kalgoorlie at the 2001 and 2004 federal elections, and in Brand in 2007.

The main beneficiary of a micro-party preference deal in Mining and Pastoral is Flux the System, which will receive second preferences from four other parties and four independent groups. Its candidate is Kai Shanks, a self-employed fitter and provider of rural property services.

Other lead party candidates are Stefan Colagiuri (Shooters Fishers and Farmers), Anne Porter (Fluoride Free), Natasha Rogers (Micro Business Party), Amanda Klaj (Daylight Saving Party), Grahame Gould (Australian Christians), Sonya Matheson (Julie Matheson for WA), Jared Neaves (Liberal Democrats) and Ian Rose (Family First).


---
Return to upper house guide entry page